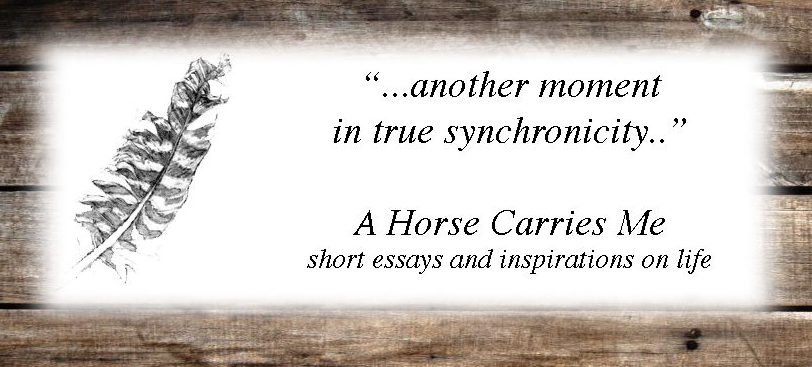 Stories & Thoughts by Paula
Abbreviated Excerpt from "A Horse Carries Me"….
There was a blissful path I traveled as a youth. It wandered through a leaf covered grove of aspens that led to a pond and a small meadow.  Here, I would sit and look through the cathedral of branches and leaves as they danced against the blue sky above. I had a good friend, Elliot Rivers, who took me to this place. He had four legs, I had two, and he gently accepted me as his cargo.  We became great companions, communicating with each other in quiet understanding.
Elliot was a plain looking chestnut quarter horse, but he had a presence about him that was noticeable and different.  It was a calming factor mixed with a sense of wisdom and nobility.  There was a sweet gentleness that seemed to make everyone and everything around him relax.
Riding Elliot transported me from the sidelines of nature's edge. I now floated through it, fitted into a worn out saddle atop this great steed, galloping along the serpentine terrain, free as the water flowed.  Riding Elliot was discovery and I found the time spent with him a natural meditation.
Elliot was my bliss and my view of life became cast through the filters of the lessons and joy I gleamed from him.
It has been many years since I picked my way along that path into the aspen grove riding atop Elliot.   I believe that engrained deep within my destiny was the path to Elliot Rivers, a simple and gentle essence who welcomed my burdens, knowing they would fade away with the rhythm of his gait.
Anytime we remember moments where we experienced pure joy and happiness, we are transported to a better place. Trust the feeling of joy and things will appear to help us dissolve our burdens as we trust the path that it creates.
To read more, get your copy of "A Horse Carries Me"
Purchase a signed copy for $8.00 plus $2.00 shipping and handling
Paperback, 88 pages